DO ANDROIDS
DREAM OF ELECTRIC SHRIMP?
CHRISTIAN JOY
MAY 18, 2012 – AUG 10, 2012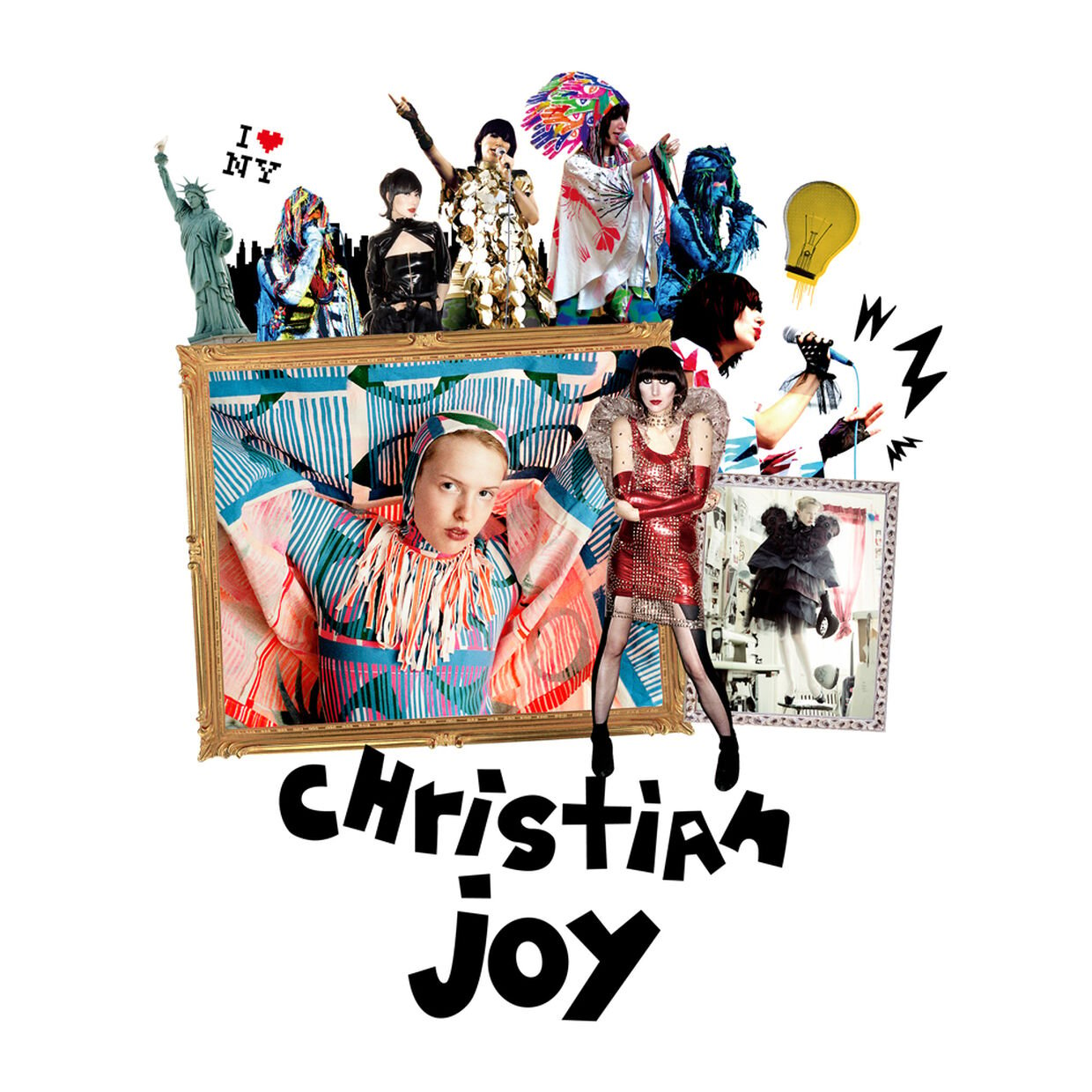 DIESEL ART GALLERY presents the exhibition of Christian Joy, who is known for her stage costume designs for Yeah Yeah Yeah's charismatic lead singer, Karen O.
Christian Joy is one of the internationally notable talents of today in the fashion industry. Her work for Karen O got more and more attention as Karen's popularity rises. Considered a fashion icon, Karen's radical and striking costumes are a hot topic. Naturally, Joy graced the cover of Time Out New York magazine in their "MOST STYLISH NEW YORKER"issue. In this exhibition, you will experience her charm and see the most progressive fashion design coming from New York City.
CONCEPT
The greatest thing about Christian Joy is her imaginative costume creations that pronounce the personality and character of each performer so well. These costumes were used in musical performances, theaters, dance performances, photo shoots, and music videos. An overwhelming presence radiates from her costumes which speak a symbolic and expressive language in the areas of graphic design and printmaking.
In this exhibition, in addition to her work from 2002 - 2012, including Karen O's stage costumes, her new series of costumes called"Kite Monsters"will be shown exclusively for DIESEL ART GALLERY. There will also be video installations and textile artworks showing her work in action.
Exhibited works and art books are available for purchase at the gallery during the exhibition.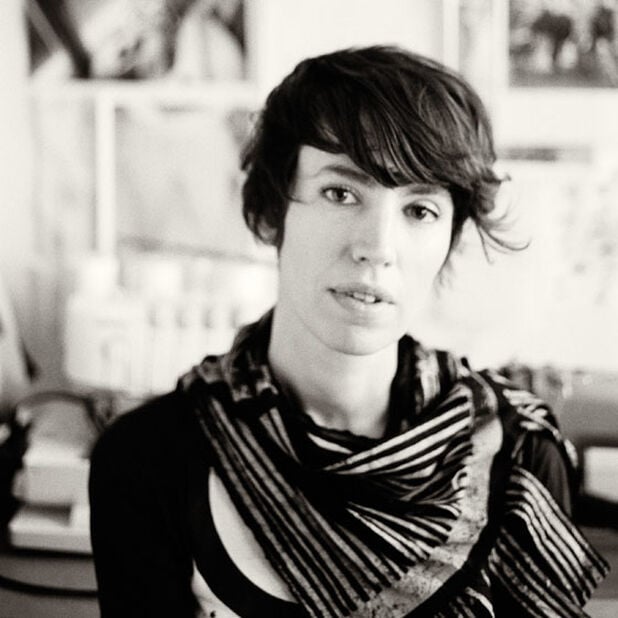 CHRISTIAN JOY
www.instagram.com/christianjoycostumes/
Christian Joy is an American fashion designer living in NYC, best known for her stage costume designs for Yeah Yeah Yeahs lead singer Karen. O. Using found articles and occasionally eschewing thread and print for glue and marker pens she has influenced contemporary fashion with punk and DIY stylings.
With no formal training in fashion design, In Brooklyn, NYC in 2000, Joy started creating one of a kind hand-painted/hand-sewn t-shirts and re-designing old prom dresses. As the Yeah Yeah Yeahs's fame grew so did Joy's reputation and has been paid attention internationally.
Joy's work has been exhibited in The Victoria & Albert Museum in London, The Museum of Art and Design in NYC、the Mode Museum in Hasselt, Belgium as well as for her first solo show at the AVA Gallery in NYC. Her work has been published on the coverse and in the pages of numerous magazines including Women's Wear Daily,
Title: Do Androids Dream of Electric Shrimp?
Artist: Christian Joy
Date: May 18, 2012 – Aug 10, 2012
Venue: DIESEL ART GALLERY
Address: cocoti B1F, 1-23-16, Shibuya, Shibuya-ku, Tokyo
Tel: 03-6427-5955
Hours: 11:30 - 21:00
Holidays: Non-Regular Holiday
Curation: Kimiko Mitani Woo / MW Company
Supported by SunM Color Co.,Ltd.
Cooperated by
Kimiko Mitani Woo
Independent Art Curator / Art Producer. After a career at Wieden + Kennedy Tokyo as an account executive of Nike, Kimiko Mitani Woo follows her dreams working with "Asian art and design". Having worked on a few art projects such as Akasaka Art Flower 08, the artist management for Nam June Paik Art Center Opening, she established MW Company in February 2009 and started working in art producing in Tokyo and Shanghai. The main role of the company is to expose young and upcoming artists who represent a unique and non-traditional perspective of the world. By doing so, MW Company provides and encourages opportunities and development of the East Asian art scene. The previous projects are: DIESEL DENIM GALLERY AOYAMA, Japan Media Arts Festival, Upcoming Chinese design exhibition at Creation Gallery G8, etc.
CHRISTIAN JOY SPECIAL INTERVIEW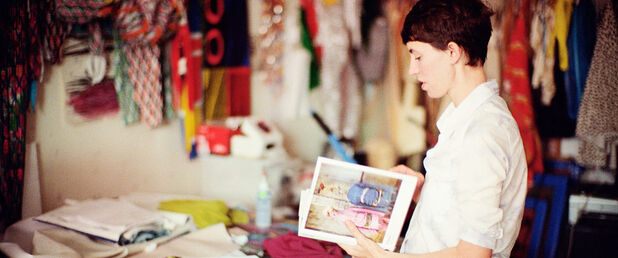 --Could you give a brief introduction of yourself?
My name is Christiane Hultquist and I am a self taught costume and fashion designer.
--How did you get interested in fashion? What is the reason you want to become a fashion designer?
I was always interested in fashion even when I was a little kid I was obsessed with my older brother's wardrobe. He dressed like a1980's New Romantic and even though I was 7 years younger than him I would try to wear his clothes. I became a fashion/costume designer sort of by accident. I moved to NYC and started to have these ideas for clothes and just began making them.
--Please talk about your exhibition "Do Androids Dream of Electric Shrimp?" at the Diesel Art Gallery. What is it about?
It's about my work with Karen O over the years as well as my textile prints. I print everything in my studio in Brooklyn so everything is one of a kind.
--Please let us know how you came up with the exhibition title.
Karen O actually came up with it. We've had a long running joke about shrimp and at one point I made her a costume with a giant stuffed shrimp that she wore around her neck. At a show in London she shredded the shrimp with her teeth and threw the pieces into the audience. I received an email from her that said RIP Shrimpy McShrimp
--As in your title, we hear that "shrimp" has been something that you are into for long time, could you tell us why?
At one point in the beginning of my career I saw a photo of a giant shrimp in a shoe that was taken by the director John Waters. When I first saw it, I thought to myself, "wow, that is so stupid", but I cut the photo out anyway and kept it. I thought about the photo for any years, hahaha, and it really inspired many of the costumes I made for Karen during the time of the Fever To Tell record, including, of course the shrimp dress. And of course about 10 years after looking at that photo for the first time it finally dawned on me that I was a joke about "shrimping" or sucking on someone's toes.
The shrimp dress that I made for Karen was this kind of ugly long pink prom dress printed with shrimp playing the violin that came with a giant stuffed fabric shrimp that she wore around her neck.
--Please talk about Kite Monsters that are exclusively made for DIESEL ART GALLERY.
I wanted to make some costumes that could be hung from the ceiling and still look as interesting as if they were worn, so I decided to go for some pieces that were very flat but with intense prints.
--Please tell us the procedure of your work (How you created your work?)
Usually I'll begin by doing a lot of research. I try to begin with some sort of inspiration, then in the mornings or at night when I'm falling asleep I'll begin to think about the idea. Sometimes I'll actually end up having dreams about the ideas. Afterwards, I'll begin thinking about how I can take the idea and really deconstruct it to create something that is new. After that I usually begin to think about the print and colors, because the print and colors to me are usually the most important part of the costume.
--For this exhibition, you created hand made T-shirts and Bracelets. Why you stick to hand made procedure?
I wanted each piece to be unique and I love the way hand printed pieces look. There is a depth that is lost when pieces become mass produced.
--You are well known for a costume designer for Karen O. How did you get to design for her costume?
Karen and I were friends even before I began making costumes for her. She used to come into the shop I worked at in the East Village in New York and hang out and one day she brought in the CD for her new band, the Yeah Yeah Yeahs. I was worried there were going to be really bad, but when I turned it on I was amazed at how good it was. Soon after that I had some dresses I had made in the store with me and Karen saw one and asked if I would make one for a show they had coming up. After that the Yeah Yeah Yeahs just blew up and I became the default costume designer.
--How do you design the costume for Karen O? What is the procedure?
Karen really gives me free reign when designing costumes for her. Often she won't even know what the costume looks like until the day of the show. It's amazing and I feel blessed that she trusts me so much. Much of the time however, when we do begin talking about new ideas, we'll realize we both have the same concept in mind and I think because she knows we're on the same page she feels more able to let me do what I want.
--In the artworks that you have created, which is your favorite?
The Skeleton Suit that I made for Karen at the end of the tour for Fever To Tell will always be my favorite costume. It was the first chance I ever had to really work on one of her costumes. Up until then I would only have a few days to come up with something. I think I had 3 weeks to work on that one and it really became a turning point for all of her future costumes.
--What is the message through your creation?
I want people to feel inspired and rebellious.
--Where do you get your inspiration? What inspires you?
I try to find inspiration in everything that I do. I think food is a great inspiration. I love sitting with friends and eating and drinking and talking, I feel refreshed and full of ideas afterwards. I also find inspiration in a lot of artwork. I love new artwork, but I really love tribal and art traditional to a culture. I also love folk art. Overall it's often more expressive and raw.
--You are based in Brooklyn. Does this location influences you anyhow for your creation?
I feel more inspired by Manhattan than Brooklyn. I feel like the energy in Manhattan is different.
--How does collaboration with other creators affect your own creations?
I think it forces me to think differently. It pushes me out of my comfort zone. I like that.
--Do you have any favorite artists or Photographers ?
John Waters, Yayoi Kusama, Yoko Ono, Jean Dubuffet and Russian Constructivist art
--The use of the color in your artworks is very unique, what is your obsession to the color? Anything particular about it?
Oh, I just love color. I think people don't use it enough. I love red the most. It's powerful and I feel like people react strongly towards it. I feel like a lot can be communicated with color. I always want my colors to be contrasting and strong. I want the viewer to be unable to look away.
--Any new projects for the future?
I want to begin to create more prints and to show at more galleries and begin to work on collaborations with other people.
--This is your solo exhibition in Japan, Is there anything else you want to do in Japan in the future?
I want to come back to Japan so that I can explore other places outside of Tokyo. I love Tokyo, but I want to see the other parts of the country as well.
--During your visit in Japan, Have you found anything interested in Japanese fashion and culture?
My work has always been super influenced by Japanese culture, so it was a lot of fun to actually come to Japan and see it firsthand. I learned to make patterns by learning to make a kimono first. My favorite pieces of clothing that I saw a lot in Japan were all of the crazy patterned pants and shorts. I love crazy pants, so I was really happy to see so many.
--Please give a message to the people coming to your exhibition
I hope you enjoy the exhibition and that it inspires you to create and wear lots and lots of color!!!
Thank you!!!
商品を削除しますか?
次の商品を買い物カゴから削除しますか?