MAGIC TENT
KEIKO + MANABU
AUG 20, 2011 – AUG 12, 2012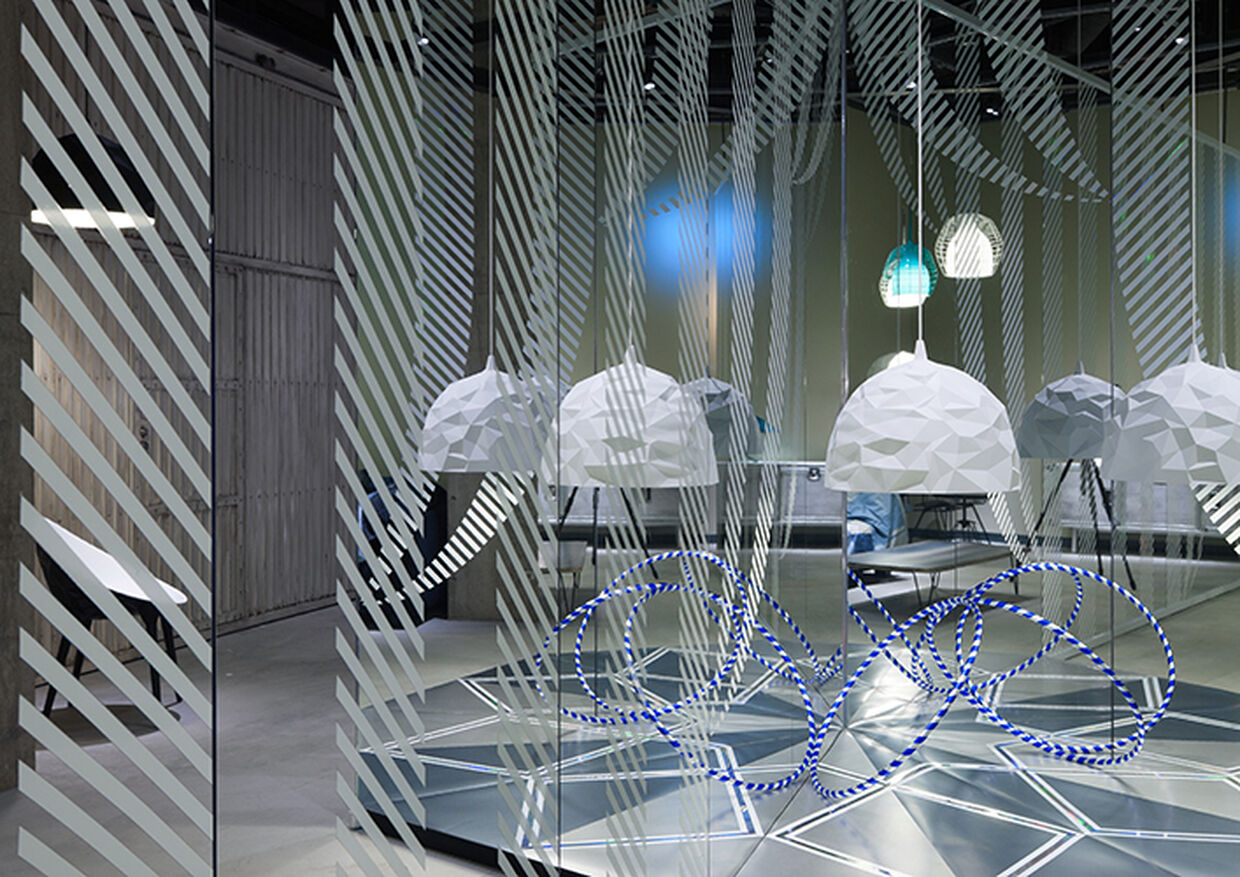 New store installation project by architects and interior designers has started in Home Collection section at DIESEL SHIBUYA.
For the launch of this project, KEIKO + MANABU, an architecture design unit based in Tokyo and Seattle, designed magically shining space with Diesel Home Collection "Successful Living from DIESEL", which is built around a rock and casual living concept.
CONCEPT:
Grand 2.8 meter-high multifaceted mirrors stand in the middle of the space.
One side is a massive mirror with marine and navy blue stripes, the other side is a mirror with white and silver stripes drawing a circus tent.
Between reflections of spotlights beams, three sparkling performance stages appear.
Vibrant DIESEL HOME COLLECTION pieces dance around, beddings give aerial performance with a hoop.
An indigo dyed chair shows itself though the tent.
"Successful Living" scene, created by fine details of collection made by collaboration with MOROSO, FORSCARINI, and ZUCCHI and relaxing chic-casual style, is sprinkled with charms of "MAGIC TENT".
KEIKO + MANABU
https://www.instagram.com/keiko.manabu/
KEIKO + MANABU is a design team based in Tokyo - Seattle, found by KEIKO Uchiyama and MANABU Sawase, both studied Architecture in U.S. or Japan. Their Design projects stretch wide from jewely to product, commercial architecture, landscape and urban planning, from Japan to overseas.
Recent projects include the first solo exhibition "Heart of Shapes" at the DIESEL DENIM GALLERY, "Kazuo Ono Butoh and Life 101" exhibition design, artwork design for "IWAI NO RU by Sachio Yoshioka for the Suntory Museum Opening. Shop design for LE CIEL BLEU, SOQS, BLESS, BRIDARIUM MUE , BRAND NEWS and TRINITE.
AWARD
2006: JCD Design Award Rookie Award
2008: JCD Design Award Gold Award
2009: JCD Design Award Silver Award
2010: JCD Design Award Gold Award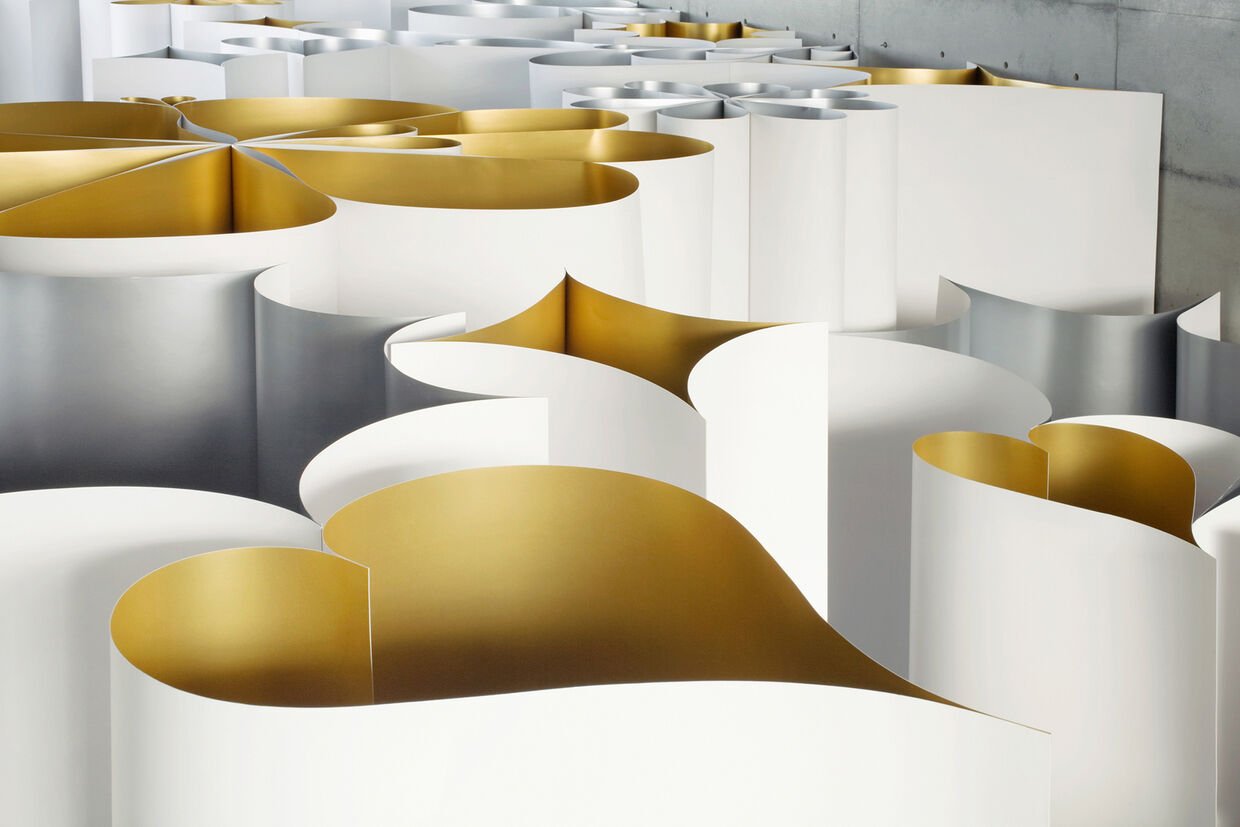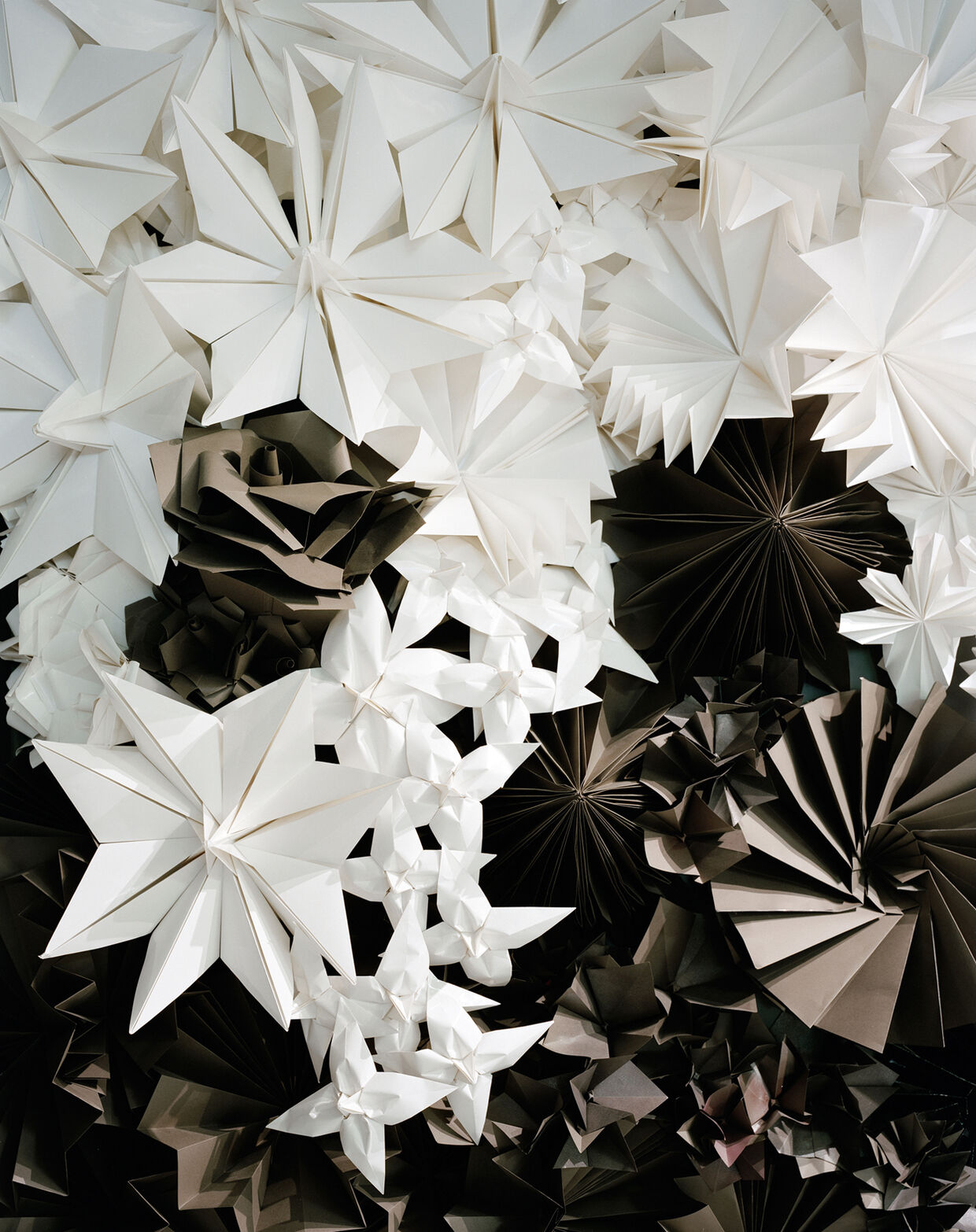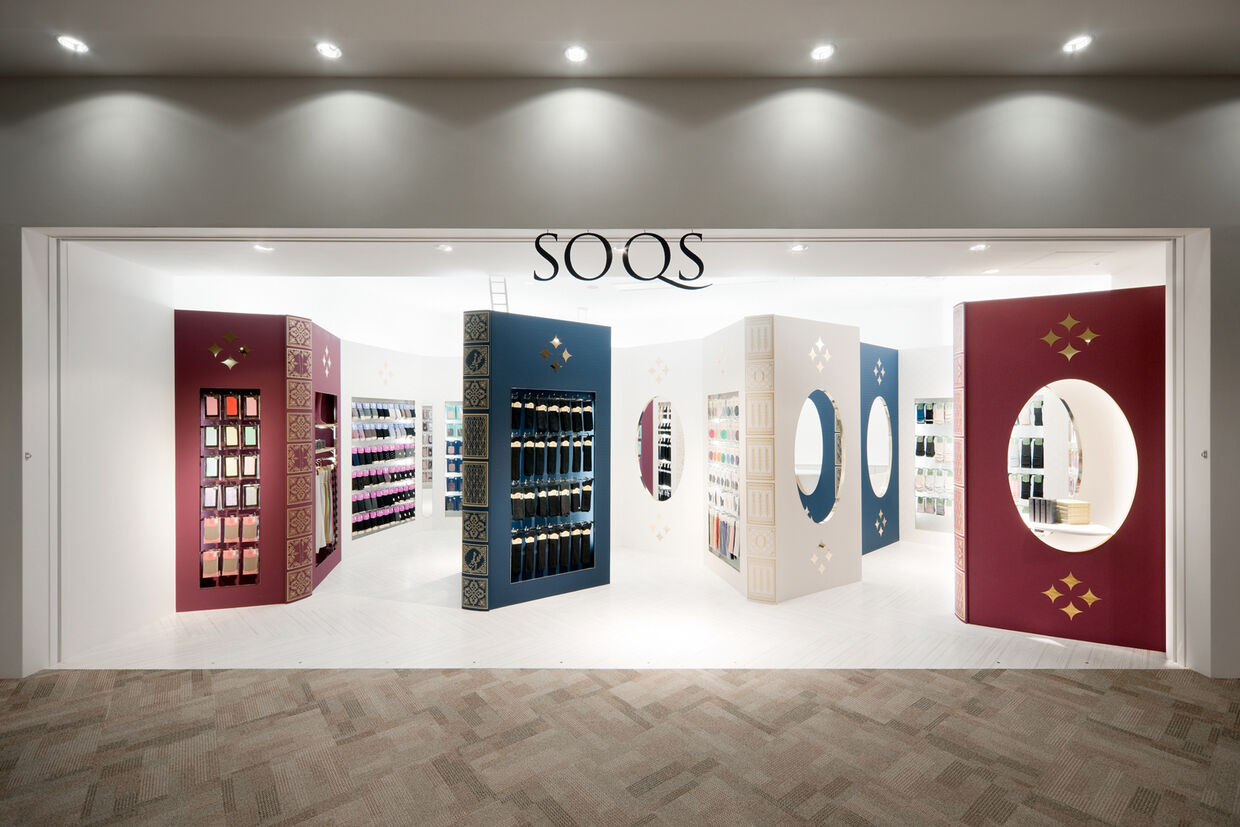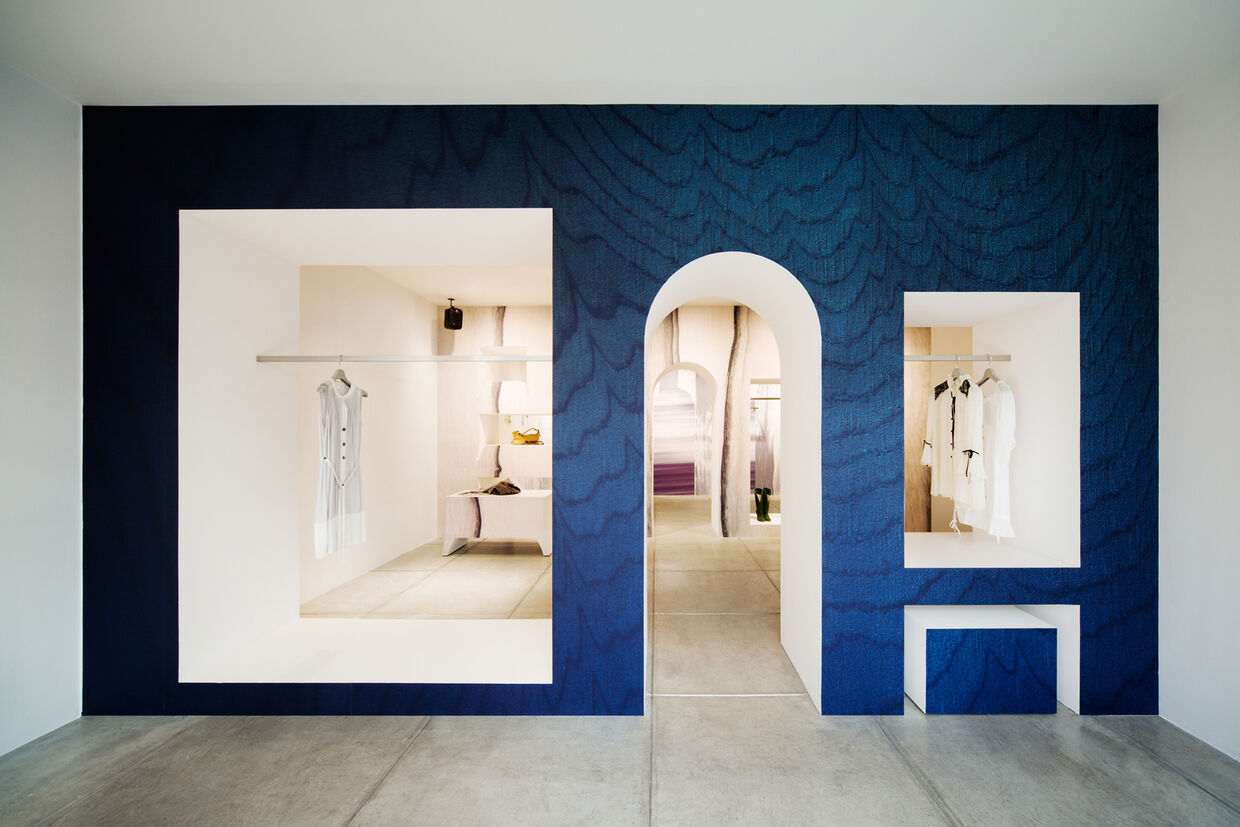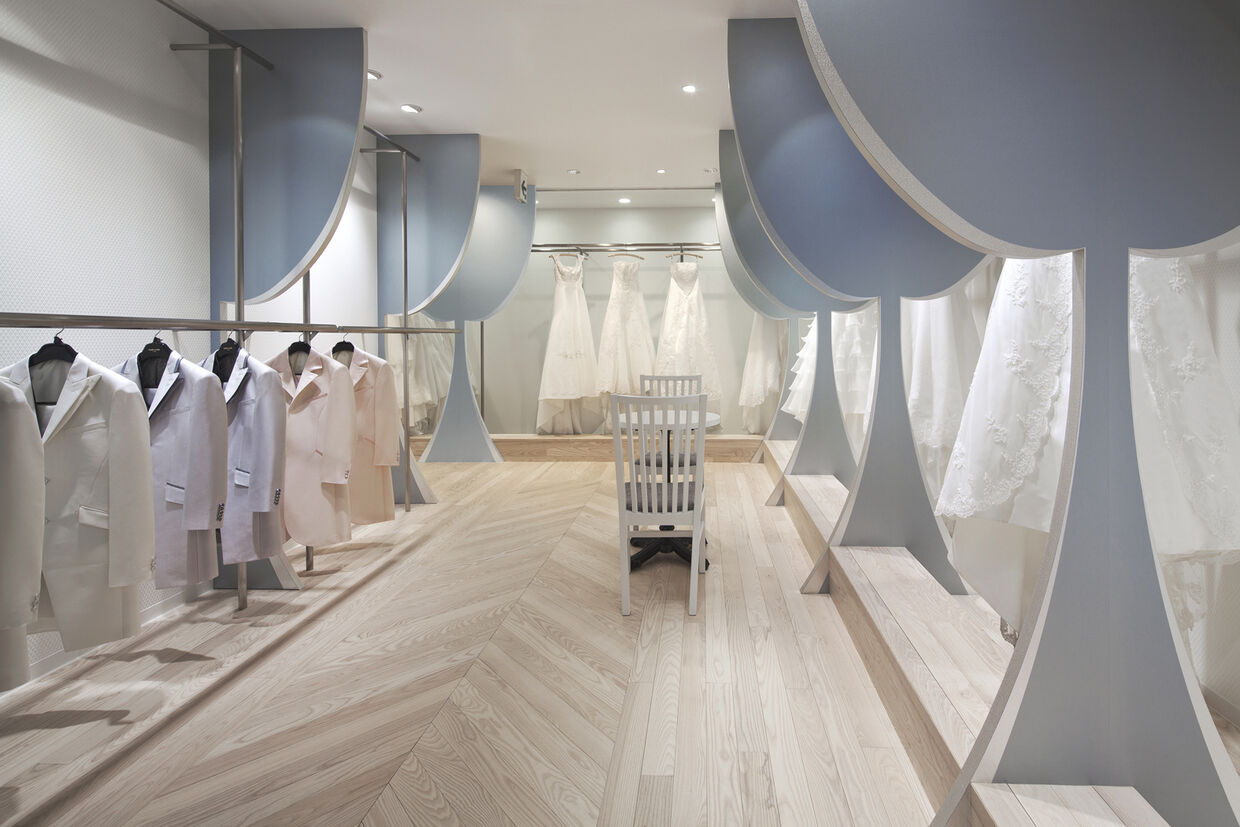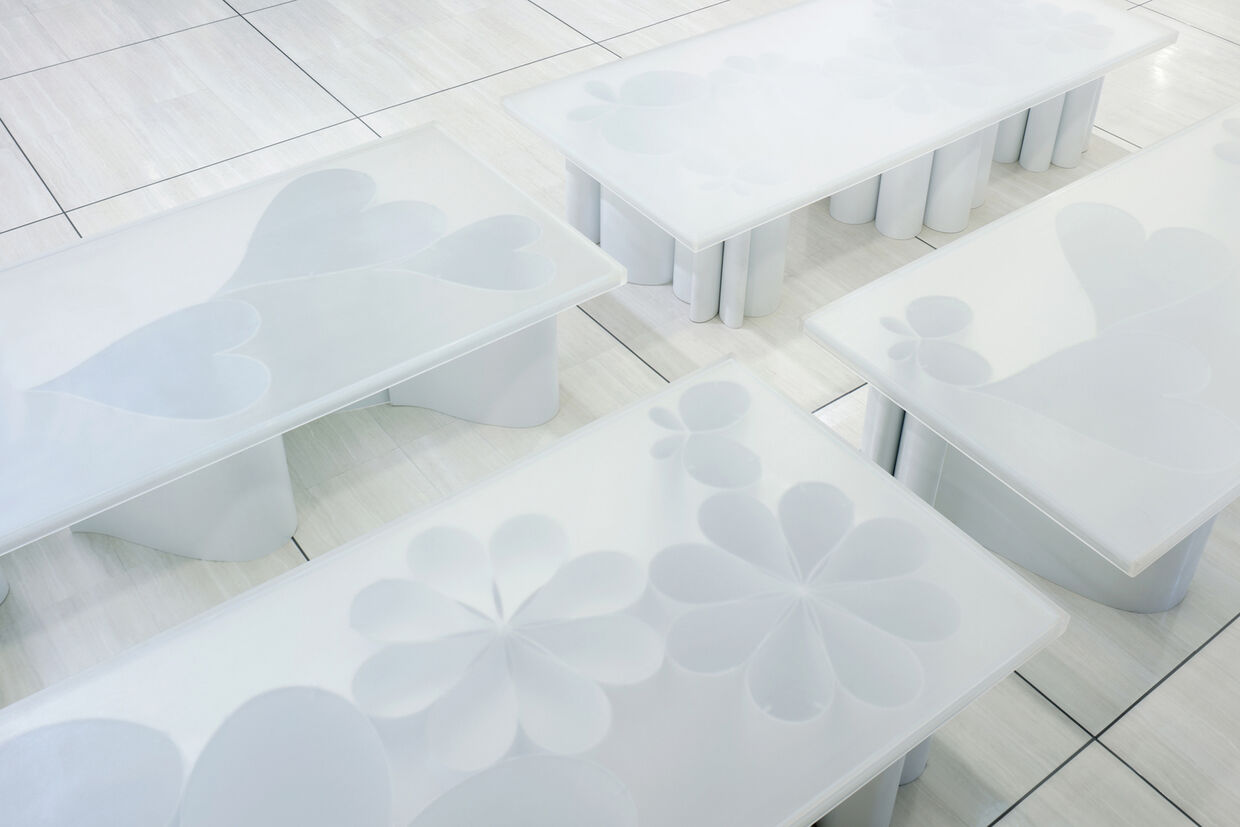 Title: MAGIC TENT
Artist: KEIKO + MANABU
Date: 2011. 8. 20 [SAT] – 2012. 8. 12 [SUN]
Venue: DIESEL SHIBUYA
Web: www.diesel.co.jp/art
Address: cocoti B1F, 1-23-16 Shibuya, Shibuya-ku, Tokyo
Tel: 03-6427-5955
Hours: 11:30-21:00
Holidays: Non-regular holiday
[Cooperation]
Structure Design: Akira Suzuki / ASA
Graphic Design: Masahiro Kakinokihara / 10 inc.
Construction: HAKUSENSHA
Glass Work: GLASS CUBE
Illumination plan: USHIO SPAX Co.,Ltd
KEIKO + MANABU SPECIAL INTERVIEW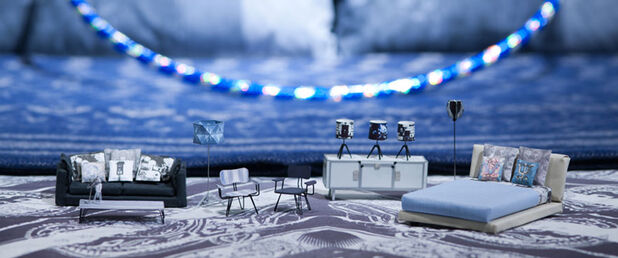 ―How was your experience of designing installation for the Home Collection at the DIESEL SHIBUYA?
KEIKO(K): First of all, at DIESEL SHIBUYA, we witnessed that combination of the cafe and the boutique created a new way of enjoying "DIESEL" style. After guests put their names on the waiting list at the cafe, some looks through clothing collection at the boutique while waiting, or others got their eyes caught on the T-shirts worn by cafe servers and tried them on at the boutique. The menu and the service are exceptional. They showed the way to enjoy not only the fashion but every aspects of life style in "DIESEL" way, and I saw their passion.
MANABU(M): Also, they are very passionate about styling art, music, automobiles, bicycles, motorcycles, hotels and things. It is amazing that the fashion brand, DIESEL is doing that. It was a huge responsibility for us to design the space for the one of major part of "DIESEL" style and our answer was "MAGIC TENT".
--So, tell me about the concept of "MAGIC TENT".
K : We sprinkle a little bit of magical charms over DIESEL Home Collection and created space where you can "experience" products. We wanted to recreate the anticipation for upcoming circus shows in town and the boiling excitement right before the show begins. The scale ratio between visitors and the space, controlled visual effects, energy, cheerfulness, and atmosphere, echo with DIESEL collection's concept to stimulate you to imagine joyful life with those products.
M : Because of the massive mirrors, you can "try on" furniture as you do so with clothing. Some of the home products strongly express the DIESEL's vibrant "ROCK" concept, we created a scene where lux, relaxed and organic products can also exist in the unique "MAGIC TENT" effect. The reflections through the mirrors made this effect unique to DIESEL SHIBUYA.
--What do you mean by the effect unique to DIESEL SHIBUYA?
K : For example, right now, behind the hanging FOSCARINI's black ROCK, you see MAGIC TENT reflecting the video installation at the art gallery, and the atmosphere here changes when video changes its scene. Some of the art collections are displayed and arranged with home collection in MAGIC TENT to propose the idea of incorporate art into everyday life, so the home collection guests would be interested in art work as much as the art patrons' interests in home collection. Also, home collection products are used as part of interior in the cafe and the boutique, this large scale cross-MD is unique effect of DIESEL SHIBUYA and MAGIC TENT emphasizes it.
M : Existing antique furniture such as the ice cream stand and crown's toys also become lively now there is MAGIC TENT. They might be playing together after the store hours.
K : Exhibition of MAGIC TENT lasts for one year but the art gallery opens new shows every three months and we hope MAGIC TENT will alter itself and resonant together with every art shows.
--As I hear your story, it is less of installation and more like shop design.
K : To make the best relation between surrounding, products and our new designs was our priority and it is not much different from how we design shops.
--What is your impression of DIESEL Home Collection?
K : The collection is really interesting that every product is exceptional and charismatic yet it matches with every other ones. For "ROCK", the common design concept lead by DIESEL, FOSCARINI designed pendant lighting fixtures, MOROSO made chairs, ZUCCHI created beddings and so on. It is truly amazing thing to be able to collect these high quality lines of products.
M : Same as Lamborghini Countach, I feel the Italian prides in the every lines of products. As a designer, I appreciate and respect their attentions to details and well-thought designs. I think they never allowed mediocre thoughts like "this is good enough for a lighting fixture" or "let's just stop here because if we try to hard it becomes too complicated". I think it was possible because DIESEL is a fashion brand.
--Tell me about your past.
K : I studied Architecture in the US and Manabu did in Japan and we both got job in the field. I worked at the architecture firm, SANAA, and mostly worked on international projects in various scales like museums, retail designs, and others. Manabu got most experience in Japan designing residential and public structures such as a fire station in wood, steel and concrete. Then we both became independent architect designer, our first collaboration was interior and exterior renovation of a fashion brand's flagship store and after that we have designed various things such as demitasse cups, chairs, art installations, artworks along with architectural designs.
M : We often say we design "from earrings to city planning" as our catchphrase, and we have designed earrings will see about city planning.
--Can you tell me things, places or experience that identifies you?
K : There are so many things but an obvious one is "Sitka, Alaska" for me. I was born in Seattle and lived in Alaska and Tokyo and spent my high school years in Sitka Island. The island is twice as big as Tokyo but the population was only 8000. Until mid-19th Century, the island was Russian territory and Russian culture, architecture, and dance still can be seen, 10000 years old Native American culture exists since long before the Russian invasion, and now it is part of America. Sitka is unique place where various cultures coexist. Numerous islands float in the sea, a mountain looks like Mt.Fuji stands on one of the islands, mountains with snowcaps stands behind the town of Sitka. I've been moving back and forth between Sitka and Tokyo since I was a baby. Sitka is a special place where I spent my teen days. You can see sea otters, seals, and whales on the way to the school, a group of bold eagles rest on trees in the backyard. In spring time, big herd of herrings spawn eggs along the shore and the ocean sparkles in silver. In late summer, herds of salmons swim up the river and black bears come down to the river to catch salmons. It was usual back then, but now I compare with my life in Tokyo, it was pretty wild.
M : I'm from Iwate, there is a village by the fount of Kitakami River where most of villagers has last name "Sawase" and that's where my grandfather was born. I visited there early this year and it was spiritual experience. I felt as I am a mushroom spring up from the earth. It was toughing to realize that my grandfather left this small village to Morioka in search for bigger world, and my father then I left Morioka in search for even bigger world.
--Where the design inspiration comes from? What stimulates you?
K : Wherever I go in the world, I see the difference of environment, landscape, life style and it is interesting to pay attention to those differences and I love to experience the local life. I always imagine if we live here and design buildings or stores what can I do to make the best for the people who lives there. I think this is a good training.
M : Everything I feel as a person with normal life from family, friends, neighbors, coworkers, society and nature. To acknowledge that those things and we have inseparable relationships inspire me the most.
--Tell me about your upcoming projects.
K : Now, we are designing cakes in Hakkaido. The inspiration came from charming furniture models we made for MAGIC TENT presentations. Dressing rooms for wedding venue, a brand's showroom, a French restaurant etc., our field is open. Also, at Sogo Seibu department store, we are finishing up art works called "Welcome Wall" which will be placed by women's powder rooms.
M : Next spring new building will be completed and it is our first structure we designed as KEIKO + MANABU.
--Please give a message to MAGIC TENT visitors.
M : Please check out the allure of the Home Collection. And, it's fun to play with mirrors! I danced to the music at the store, so much fun!
K : Throughout the year, we'll give seasonal changes, alter layouts, host events and planning to keep changing, so please come visit this installation and check out new products regularly. Please have fun with MAGIC TENT!
商品を削除しますか?
次の商品を買い物カゴから削除しますか?