MOTION
Yabiku Henrique Yudi
FEB 13, 2021 – MAY 13, 2021
Collage artist Yabiku Henrique Yudi, who is attracting attention in Tokyo's art and fashion scene, will hold his largest solo exhibition at DIESEL ART GALLERY.
Collage artist Yabiku Henrique Yudi, who is attracting attention in Tokyo's art and fashion scene, will hold his largest solo exhibition at DIESEL ART GALLERY.
DIESEL ART GALLERY will hold the solo exhibition "MOTION" by Yabiku Henrique Yudi.
With a background in Brazilian and Japanese culture, Yabiku looks for inspiration in the beauty of incongruity and imperfections of today's world.
As he expands his creative platform mainly through collages and installation art, Yabiku is currently considered one of Tokyo's emerging artists.
The exhibition will showcase more than 30 new pieces of art, including three-dimensional pieces. The art works will be available for purchase along with limited goods made exclusively for the event.
Artist's statement
One day, as I saw a viaduct, my eyes went straight to a deteriorated section with graffiti.
In a world where technology is constantly evolving and perfection is widely sought, the incongruity of reality intrigues beauty to me the most.
The mainstreet; stomping ground for homeless and bourgeoisies.
Cigarette butts abandoned next to "No Skateboarding" sign.
Young generation, exhausted, grasping to live in the "present", where the world seeks to understand everything.
These kids discover their playground in this empty space, where inconsistency coexist within the city.
These incongruities show's themselves as if they were arrangements of this world.
I was fascinated by the beauty of these unintentional misalignments that seem to come up consistently and naturally, without any deliberate intent in the mist of the finite nature of this world.
Yabiku Henrique Yudi
https://www.instagram.com/yabikuhenriqueyudi/
Born in 1997, São Paulo, Brazil, Henrique moved to Japan at the age of 11. He started studying clothing design at Bunka Fashion College and later started making collages as a way of self expression. The debut solo exhibition "FIRST IMPRESSION" was held in 2019 at the W+K+ Gallery. In the same year, Henrique"s artwork in collaboration with Valentino was published in Them magazine. Now, in 2021, he will hold his biggest solo exhibition "MOTION" at DIESEL ART GALLERY in Shibuya. Coming from a multicultural background, Henrique looks for beauty in the discomfort and incongruity of today's world with a unique style of expressing everything by intuition, dominating the art and fashion scene in Tokyo.Currently, he is expanding his creative work centering on collages as well as design objects and spatial installations.
EXHIBITION
2019
- FIRST IMPRESSION / W+K+ Gallery
- MY WAVE / SO1 Gallery
2020
- FOUR SIDES by FELSEM / Isetan Shinjuku store
- GALÁPAGOS / offshore TOKYO
- PENSAMENTO / BEAMS T Harajuku
Title: MOTION
Artist: Yabiku Henrique Yudi
Date: February 13, 2021 - May 13, 2021
Venue: DIESEL ART GALLERY
WEB: www.diesel.co.jp/ja/art-gallery
Address: cocoti B1F, 1-23-16, Shibuya, Shibuya-ku, Tokyo
Tel: 03-6427-5955
Hours: 11:30-18:00 (Open hours may change occasionally)
Holidays: Non-Regular Holiday
Cooperation:
FELSEM
https://www.instagram.com/felsem_official/
Creative team formed by Yabiku Henrique Yudi and product designer TOTOKI SAKURA whose concept is to bring together the idea of "Minimalism" and "Street". Although street art is traditionally seen in the apparel industry, FELSEM aims to deliver street art to more people with a multifaceted approach including interior and space design.
TOTOKI SAKURA
Born in Bunkyo-ku, Tokyo in 1997. Totoki graduate from Musashino Art University Interior Design Major in March 2020. Her work focuses on the concept of "Raw" and "Sexuality". While Totoki has created a wide range of interior-related pieces from charis and vases to space designs, the artist's specialty is to show a consistent and minimalistic worldview through her art work. Recently, she coordinated the space production for the SHINYA KOZUKA's Spring / Summer 2020 collection, expanding her activities not only to the interior scene, but also to the fashion scene.
Yabiku Henrique Yudi SPECIAL INTERVIEW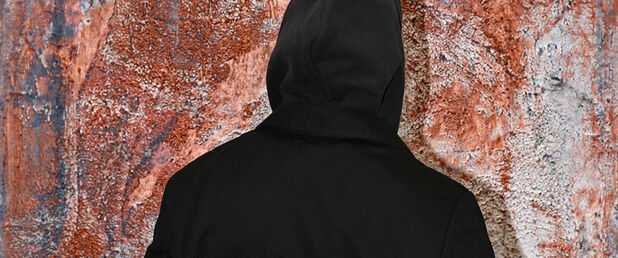 --How did you come up with the concept of "MOTION"? Please tell us about the highlights of the exhibition.
For this exhibition, I aimed to combine the street art that I have been working on for the past year with Japanese elements. The exhibition focuses on the discomfort and the imperfections of incongruity that arise in a world that is constantly changing and becoming more complex. In addition to analog collages, the exhibition showcases art works using various techniques such as prints, installations, and paintings. The idea is that various materials are gathered in the same venue, and each one fits in your own place making the space itself a big collage.The flower vases and installations were created with TOTOKI SAKURA. We are of the same age and she is part of the (FELSEM) creative team.
--Around what age did you start getting into creative activities?
I've always loved drawing since I was little and I used to draw copies of illustrations and photographs. But at that time, I wasn't even thinking about becoming an artist.
--You are from Sao Paulo, Brazil. How was your childhood there? Did that influence your creative work?
When I lived in Brazil, I used to play soccer and video games, etc. I was just an average boy. Sao Paulo city was always very busy. My friends had different racial backgrounds, and the gap between rich and poor is very big. There were homeless people living on the same street that rich ladies would walk down, and deteriorated buildings next to beautiful ones. A lot of uneven things. All of these incongruities coexist in a single country. The same goes with my work; when I see different materials fused together and looking beautiful, that is when I know it is time to stop. Of course, I didn't have the same vision at that age, but looking back, there are a lot of similarities in my work.
--What was your initial inspiration for becoming an artist?
I came across collage for the first time when I was taking time off from Bunka Fashion College. While I was trying to figure out what I was going to do with my future, I was shocked by the graphics and fonts from old magazines I picked up at Natsume Shobo in Ikebukuro, and I unconsciously started to purchase them.
At one point, I tried to make something for the first time in a long time, and gave collage a try with old magazines that were piled up at home. I thought that I did unexpectedly well, so a mysterious confidence arose and I made my second and third works and posted them on Instagram. As I posted my work on a constant basis, I started to receive positive responses from people other than my friends. Shortly after that, I was invited to exhibit my collages at "YAGI EXHIBITION" sponsored by Reiji Okamoto. YAGI was the first opportunity to increase the visibility of my work.
It was supposed to be just part of a hobby, but since the exhibition, I started to receive requests to work with visual branding and magazines. At first, it was inspiring to know that I could earn money like that but at that time I was still working part-time, and I thought I would do what was possible.
I decided to become a full-time artist after holding my first solo exhibition "FIRST IMPRESSION" in 2019.
--You said you were studying fashion at Bunka Fashion College. What made you interested in fashion?
I didn't have a particular reason. When I noticed it, I was crazy about fashion. My high school focused on language studies so I had many friends who pursued a path other than fashion, but I wanted to study fashion and I got into Bunka. At that time, I had a strong desire to devote myself to what I liked rather than aiming for the fashion industry. At the end I dropped out after a year, but what I learned there is still being put to good use.
--What is your favorite designer or brand?
I have been interested lately in Glenn Martens, who is the creative director of Y/PROJECT and also the creative director of Diesel.
The clothes he makes are a mixture of various elements and periods, some things in common with the work that I do. The campaign "When Together", which he directed for the first time in Diesel, was released at the same time as this exhibition. I saw it and I thought it was amazing. I am looking forward to seeing his creations by directing two different brands.
--When do ideas come to you? What is the source of your inspiration?
Most of the ideas come randomly, out of nowhere. I often get them while I walk around the city. There are many similarities between Tokyo and Sao Paulo. You can see people from other countries in places like Harajuku and Shibuya, and people walking on the same street in different styles from haute couture to maid dresses.
It is a melting pot of different cultures but this mixture is somehow comforting and beautiful.
Putting myself in an environment like that automatically inspires me and influences my work.
--How much time do you devote to creating a single piece?
It depends on the work. Some pieces take a couple of hours and some can take more than a week.
--Please tell us about the process of creating your work.
I like when my artwork has the balance of looking like a complete piece but somehow off at the same time. Collage creates new values by combining things that were originally in different places.
If you try to match everything properly, it won't work very well, so my process is intuitive.
I think a lot happens by chance because I improvise it without seeing the goal at all.
--The works come from various techniques such as collage, sculpture, and paintings, yet i could tell that it's your cosistent work of expresive style. Is there anything you consciously do to creat your work of style.
It is always essential to have some "empty space" in my work.
That gives me some room to breath. But in a work where various materials and things are mixed together I also want a place where I can rest my eyes. That might be the reason.
If you develop your own style to some extent, your personality will naturally reflect in your work no matter what technique you use or how you express yourself.
--What artists do you admire?
I admire the collage artist Kosuke Kawamura.
I occasionally meet him and visit Mr. Kawamura's atelier and I learn a lot from him. He is like a mentor to me.
Mr. Kawamura's original works are very popular both in Japan and overseas. And he works in a wide range of fields such as apparel and art direction.
When I started my work, I was always surprised to see his success. and would reasure myself: "It is possible to go that far with collage art." It is very encouraging and I want to do my best to get there someday.
--How do you spend your days off?
I'm a very indoor person so usually I am just chilling at home. But lately I have been going out to see my friends' exhibitions and art galleries.
--What things or events have inspired you recently?
I went to Art Fair Tokyo for the first time this year and had a wonderful time.
I stayed for more than 3 hours, It was very inspiring.
--What would you like to do in the future? What projects do you have planned?
Store interior design is something i would like to do. Artifact that could be available to every one to enjoy.
I want to improve the quality of my work while discovering new methods, and just like Mr. Kawamura, I would like to hold an exhibition overseas someday.
--Do you have a message for people who will be viewing your works including your fans, and aspiring creators?
Thanks to social media our generation is blessed with way more opportunities. I might not have become a full-time artist if it was not for Instagram. On the other hand, since you can always access to information, there are too many options and it is difficult to narrow down to one.
I get bored of things so easily that I have never worked in the samplace for more than a year. But I was able to follow my instinct when i incoutered with collage. I knew that this artform was somehow interesting, which led me to do the work i do today. I think there is a tremendous power in things that come from intuition and serendipity. I have no idea why, but I believe it is very important to become aware of feelings that make your heart beat with joy and cherish ideas that feel interesting. It could be something in there that would impact your future. It is my desire that people can find something that makes them feel extremely enthusiastic.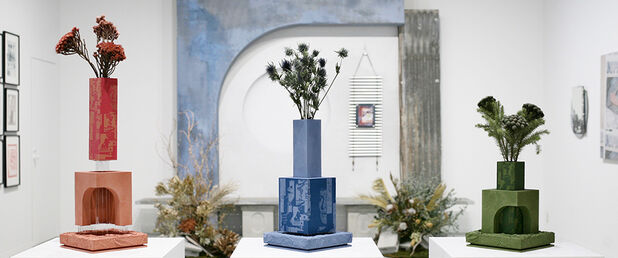 --Can you talk about your activity in a few words.
FELSEM is a creative team formed by product designer TOTOKI SAKURA and I.
Our goal is to bring together the idea of "Minimalism" and "Street".
It's been a little over a year since FELSEM was formed, but we met each other about four years ago when I was still at Bunka Fashion College and she was attending Musashino Art University.
It all started after a work we did together on SHINYA KOZUKA's space production about two years ago. We started to discuss a lot about each other's works.
I really liked her inorganic and minimalist style. Our styles are complete opposites but I thought it would be interesting if we could do something that would meet halfway.
--Where does the name FELSEM come from?
We're not good at coming up with names, so after taking the initials of "FIGURE SOMETHING ELSE OUT MINIMAL", the sound of the words and the letters felt well-balanced. So we decided to go with "FELSEM".
--How do you share the role of creation between the two of you during the process of making artworks. Is there a clear distinction?
Basically, our process always involves a lot of discussion.
This installation work started with my vague idea of wanting to make a big installation that pictured a skater taking a break on the porch. And then we gradually started to add each other's elements to the composition. TOTOKI designed the shape of the flower vases and I added street art elements with textures and graphic art.
Of course, there are disagreements in the production. But ideas and unique pieces are also born because of our different styles.
--Through the exhibition "MOTION", is there anything you've newly discovered?
I can say that it was very difficult to create the installation work. But it was a new discovery.
It was really exciting because neither of us had ever made such a large artwork like that.
We were relieved when we first saw it complete at the venue, and it also gave us confidence to create larger pieces.
--Tell us about your up-coming project or idea.
We would like to hold an exhibition of FELSEM alone next year. It would be great to present the art works, products, installations and space productions created by the two of us, and deliver art to as many people as possible through a multifaceted approach.
--Please share a message to the people coming to your exhibition.
In this installation work, we created a spatial presentation using materials that can be recognized by anyone.
Although the installation is imperfect, it somehow makes you feel comfort. Anyhow we want you to experience the atmosphere at ease!
商品を削除しますか?
次の商品を買い物カゴから削除しますか?